In 2012, PFM was introduced to our now-partners in Cambodia, New Life Fellowship of Churches, by Pastor Dan Carroll of Water of Life Community Church in Fontana, CA. Pastor Dan is a long-time friend of Potter's Field and extended the invitation to visit a work with which his congregation was co-laboring in Cambodia. From that trip, God forged a partnership between PFM and New Life Fellowship, and its senior pastor Jesse McCaul.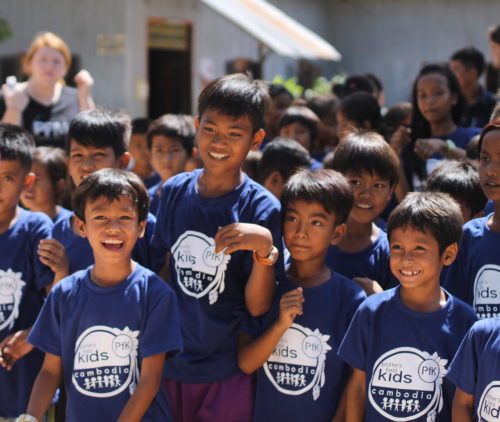 Pastor Jesse has lived in Cambodia since he was seventeen years old, and took over the senior pastorate of New Life Fellowship Phnom Penh from his father, Chuck McCaul, in 2004. New Life Fellowship is passionate about planting churches and impacting every part of Cambodia with the gospel of Jesus Christ. They currently have hundreds of church plants in villages throughout Cambodia, and the goal is to affect every province and bring the hope and light of Jesus into the predominately Buddhist culture.
It is in eight of these village church plants that PFM has established PFK after-school programs: Roloch, Kraing Tnong, Prey Ta Chap, Tonle Bati, Samrong Young, Sdok Prey, Trapeang Vihear, and Trey Myab. PFK Cambodia after-school programs have a total of 400 children enrolled and consist of a full meal as well as classes in English, Mathematics, the Bible, and Khmer (the national language), five days per week. For some children these classes act as tutoring in addition to the lessons they receive at school; for others, this is the only schooling they receive.
IGNITE interns serve in both the villages and in the capital city of Phnom Penh, assisting in the PFK programs, church outreaches, ESL classes, and New Life Fellowship's elementary school in the city.
It is difficult to put into words the depth of impact that PFK is having in Cambodia. The best description is displayed in snapshots of entire communities being transformed. One village chief is so impressed by and grateful for the difference PFK is making in the lives of the 50 children enrolled in PFK in his village that he wants to build a school for PFM so that all the kids in the village can receive the same ministry. In another village, a staunch Buddhist community which was once hostile towards the local pastor and his wife, to the point of issuing death threats, is now so blessed and thankful to the church and PFK for bringing such hope, care, and education to their children. The programs have proven to provide a higher level of education than the public school systems, and have become an injection of new life and passion into the church plants in each location sending shockwaves of transformation throughout the surrounding communities.